We need the assistance of major corporate sponsors and partners to complete Phase 2 of the playground and make this community dream a reality.
As a sponsor, we will work with you to fully maximize community goodwill. Every press release, every interview, and every event is a new opportunity for us to show our gratitude to those who are committed to the betterment of our community.
Learn more about our sponsorship opportunities! And don't forget to visit our Donor page to learn more about our generous donors!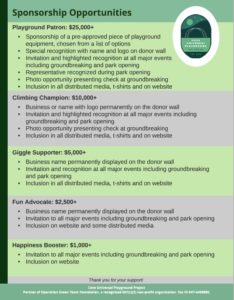 What to be a Sponsor? Have questions? Contact us at [email protected].
A full version of the Sponsorship packet can be found below:
CUP Sponsorship 2 Pager

Partner of Operation Green Team Foundation, a recognized 501(c)(3) non-profit organization. Tax ID #47-4459980