Ultimate Commuter Guide
For those living or working in the Cove, GrowCove has published the Ultimate Commuter Guide.  Check it out here!
Have suggestions for content? Please email [email protected]
Ridesharing Opportunities
Want to join a carpool or vanpool?  Check out the  link below to easily share vehicles with neighbors and coworkers.
OPEN HOUSE!
MONDAY, DEC 10TH, 5:30-7:30PM @ Rivertree Church, 652 Taylor Road, Owens Cross Roads, 35763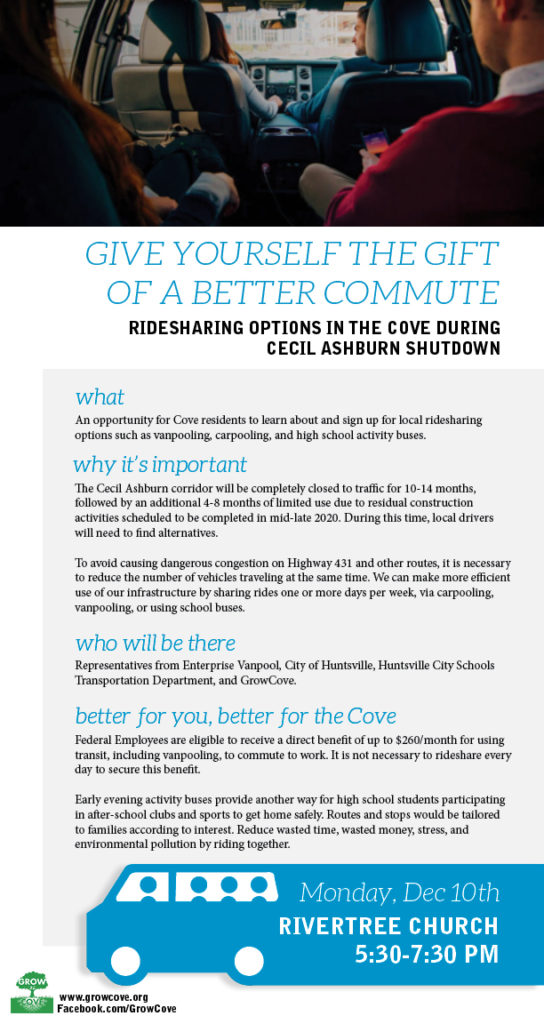 Ridesharing even one day a week, instead of commuting solo, makes a difference to your wallet, stress level, overall amount of traffic congestion, and the environment.
A Guaranteed Ride Home program exists for CommuteSmart participants, and Federal Employees are eligible to receive over $3000/yr in public transit (including vanpool) incentives!
https://www.huntsvilleal.gov/residents/streets/public-transportation/ride-sharing/
City Transit Study (Fall 2018)
The City of Huntsville is conducting a Transit Study to  improve and grow public transit in Huntsville over the next five years.
This study seeks to:
Expand public transit in Huntsville
Make service more efficient
Increase ridership and attract new riders
Explore new technologies
Produce an implementable 5-year plan
City of Huntsville Transit Survey (Accepting responses until 9/28/18):
https://www.surveymonkey.com/r/HuntsvilleTransitStudySurvey
Use the open-ended comment boxes to share your views about transit in the Cove and throughout the City of Huntsville!