From Dug Hill to Owens Cross Roads and Green Mountain to Gurley, the Big Cove area has seen a relatively high rate of population growth in recent years. Because of this growth plus encouragement from GrowCove, the City of Huntsville has established a Small Area Planning (SAP) initiative here as part of its Big Picture comprehensive planning process.
Planners in the City of Huntsville Long-Range Planning Division also provide services for the Huntsville Metropolitan Planning Organization (MPO), a regional body including all of Madison and some of Limestone County.
GrowCove recently hosted the Planning team on Wednesday, June 19th in the Goldsmith-Schiffman Elementary School Cafeteria to share the results of the first SAP meeting and a followup survey conducted of Cove stakeholders. 
To kick off the 2nd SAP meeting, Jennifer Nelson, one of the GrowCove directors, made several announcements regarding highlights of the last year, project status updates, organizational changes, and upcoming events before introducing new Director Elizabethe Osborne, and turning over the floor to James Vandiver, the lead local government planner for this process. James went over the results of the first SAP meeting and attendees then dispersed to tables and posters set up in the back of the room, for an interactive exercise. 
Announcements
Fall 2018 through Spring 2019 highlights of GrowCove include successes in the areas of infrastructure, recreations, events, and general groundwork. More details can be found here. The events and CUP committee have been especially active over the last quarter of early summer, planning and executing the first Annual CoveFest and making great headway with the the design and initial fundraising of the universal playground at new Recreation Center on Taylor Road.
Organizationally, we are pleased to announce that Elizabethe Osborne has joined the GrowCove Board of Directors as acting chairperson to facilitate day-to-day operations of the organization. She brings over 25 years of non-profit leadership experience to the table! Look for exciting changes and opportunities for participation in coming months!
The next civic event planned in the Cove is a presentation by Huntsville City Schools (HCS) Superintendent Christie Finley on the topic of Cove schools on Monday, July 29th, at 5:30pm at GSES. Ms. Finley will tailor her presentation to address the burning questions or concerns of Cove residents, which must be submitted via Survey form or email to [email protected] by Friday, July 19th, so that we may aggregate and provide them to her in advance of the event. Additional speakers may be present as warranted.
The Main Event
Mr. Vandiver gave an overview of the Small Area Planning Process and purpose of the meeting. His presentation can be seen here.
This was the second meeting held with the City/MPO Planning team, GrowCove, community members and elected leaders. The agenda of the first meeting was to brainstorm ideas as to how we would want the Cove area to look. This input was then used to field an online survey to conduct a Strengths  Weaknesses Opportunity and Threats (S.W.O.T.) analysis. More than 650 people participated in the survey!
The third step in this process is a Draft Plan which will be presented to the public for feedback, most likely towards the end of 2019.
Highlights of the SWOT analysis include: 
Strengths:  Schools, greenways, scenery/nature, access/proximity to the city. 

Weakness:  Limited restaurant selection, lack of local businesses, lack of connected sidewalks, narrow roads and bridges, inconsistent building design, school capacity 

Threat:  Visual blights (don't let 431 become University), substandard structures, traffic noise, floodplain development, pedestrian and bike safety.  

Opportunity:  Encourage mixed-use development, extend the greenway network, bike facilities on major roads, better building design guidelines, more public/civic services, conservation areas, senior-friendly community.  
Also as a result of feedback at the first SAP meeting, Mr. Vandiver announced that the Mountain View Restaurant, a local institution on US-431 that had fallen into disrepair since closing over 10 years ago, was under new ownership and would be demolished later this summer.
Mr. Vandiver asked attendees to participate in a table/poster exercise towards the back of the room, and vote on the following using stickers and markers: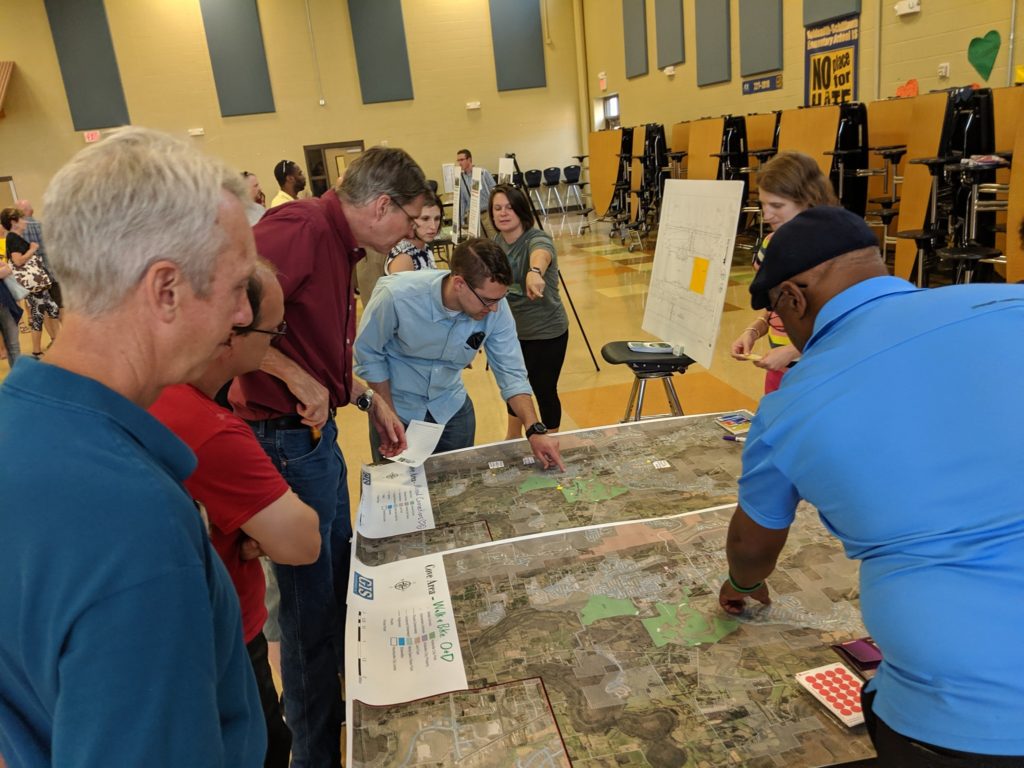 Walk/Bike/Ride:  A "Missed Connections Map" was presented to attendees to identify where sidewalks or roads had gaps. Those were identified by a yellow sticker on the map and an idea was presented to connect Little Cove and the Flint River greenway. Currently, the City is trying to work this effort into the Old 431 bridge repair efforts, slated to begin later this year. 

General Land Use Scenarios:  Currently, 8% of all the land in the Cove area is not zoned by city officials and future zoning needs will be determined on needs.  For the areas that are zoned, the city officials asked whether Cove residents would like to see a Village Cove (small boutique shops), Town Cove (medium sized restaurants and commercial businesses), or a City Cove (work/eat/sleep/play developments). The two most popular were Village and Town

Cove Town Center: What types of buildings or development types are missing? Pick top 3 priorities as shown on the poster below

An "anything else" idea board was presented to identify and capture anything that was previously overlooked during the analysis.
These results will assist in the development of an overall Master Development Plan for the Cove and Cove residents will have a chance for community comment before the plan is finalized.
Thank you to all of the community members who attended this event and to all of the City Staff that facilitated it! Your efforts and involvement are much appreciated.