"Play for All!"
Universal Playground Planned for Big Cove Communities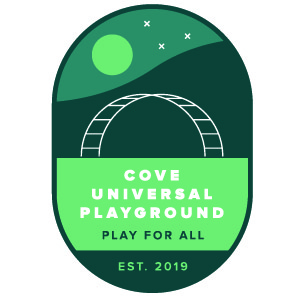 Big Cove, AL –
The Cove Universal Playground (CUP) committee announced today plans to design and construct a universal playground, the second in the state of Alabama, at the planned site of the new City of Huntsville recreational center on Taylor Road in Big Cove. A universal playground is an inclusively designed play area that is accessible for children of all ages and abilities and their caregivers.
Architectural plans for the recreation center, surrounding space for outdoor fields, and a footprint for the universal playground have been finalized with the City of Huntsville and in partnership with the Department of Parks and Recreation. In addition, the CUP committee recently selected GameTime, a commercial play equipment provider located in Fort Payne, AL, as the provider for design and construction of the playground. Jessica Berkholtz, CUP Committee Lead said of the partnership, "We are thrilled to be working with a local Alabama company, who has clearly demonstrated an ability to provide a unique design and play equipment that allows all children and caregivers to interact in the same space, regardless of their abilities. The Big Cove area is the second fastest growing community in Huntsville and this playground will serve the needs of all community members for years to come."
The CUP committee is heavily focused on identifying local and national organizations who are interested in sponsoring the playground and is partnered with the Operation Green Team Foundation and GrowCove, both IRS approved 501(c)(3) non-profits, to assist with fundraising efforts. According to Berkholtz, "We need the assistance of corporate sponsors and partners to complete the playground and make this community dream a reality." Information on sponsorship opportunities can be found at the CUP website or by contacting [email protected].
Frances Akridge, City Council Member for District 2, has been instrumental in securing space and support for the CUP. According to Akridge, "The City of Hunstville is focused on making our community and inclusive one. I am proud of our neighbors who aim to partner with City leadership to build a universal playground. I encourage community members to support the project by contributing their time, skills, or money to this meaningful effort."
About the Cove Universal Playground Committee and GrowCove
The Cove Universal Playground committee of the GrowCove Civic Organization, an IRS approved 501(c)(3) non-profit, was established to design, facilitate, and build a universal playground in the Big Cove area of Madison County, AL. The Cove Universal Playground Committee is comprised of a group of local volunteers committed to providing a playground that is both a local destination and a place where all children can play, engage, and build relationships with their peers and caregivers. GrowCove's mission is to encourage smart growth in Big Cove through constructive collaboration between neighbors and officials.
For more information, visit growcove.org/universalplayground/
About Operation Green Team Foundation
Operation Green Team Foundation is an IRS approved 501(c)(3) non-profit, tax-exempt charitable organization (Tax ID #47-4459980). Its mission is to keep Huntsville beautiful and sustainable with litter prevention initiatives, waste reduction and recycling programs, landscape enhancements and environmental field trips and programs at the J.D. & Annie S. Hays Nature Preserve and the Goldsmith-Schiffman Wildlife Sanctuary.